3D Print Your Own Protective Equipment
UPDATED MAY 25: Download the STL files for various personal protective equipment along with assembly instructions and tips on 3D printing.
As promised, we're releasing the STL files for various personal protective equipment along with assembly instructions and tips on 3D printing. Help yourself and your local community with ZMorph files.
All models were made using ZMorph VX All-In-One 3D Printer.
ZMorph Face Shield
This version of face shield was designed by the ZMorph team and is based on a classic concept. Our model has extra space for people wearing glasses, can be adjusted to different head sizes, and can use an A4 binding foil as a protection. It should be 3D printed with PET filament as it can be easily sterilized and cleaned in autoclave or manually. We've made it as simple as possible to achieve a fast and easy to print model.
Main features:
Easy to print.
Fast to assemble.
Easy to sanitize.
Can be 3D printed in bulk.
Attaching the protective foil and ribbon:
You can change the 3D printing parameters according to your needs. For example you can lower the printing quality to make face shields faster (mind you, the protective gear will be less durable and more likely to break).
ZMorph Face Shield (Openable)
This version of face shield enables the user to lift the front cover. It's a bit more complex and uses more parts therefore it takes more time to 3D print and assemble the shield. However, this solution is more comfortable for the user and doesn't require taking off if you want to put on a face mask, eat something, or for any other reason.
Main features:
The front part can be lifted.
Parts can be sanitized.
More comfortable than a regular face shield.
Attaching the foil and ribbon is the same as in the instruction above. Here's how to assemble the openable shield:
The previous face shield is recommended if you want to 3D print many pieces fast. The openable version is recommended for people with less demand, because it takes more time to assemble and requires 3D printing several parts.
[Tweet "8 things to #3Dprint during #coronavirus lockdown"]
Ears Reliever
If you wear a face mask on a daily basis you know how tiring it can be for your ears. That's why we've designed the ears reliever on which you can hook the mask behind your head. For this project we've used PET filament.
Main features:
Easy and fast to print.
Universal.
Elastic.
Adjustable.
Neoprene Mask
This is a project for an easy neoprene mask that can be laser cut. It covers your mouth and nose. There are 3 variants available: simple, with tuck, with tuck and engraving. Ear straps are regulated and mounted with 3D printed latches. For this project we've tested 2 mm and 3 mm neoprene and both sizes worked well.
Main features:
Fast to make.
Doesn't require sewing.
Doesn't soak as much as cotton masks.
Regulated ear straps.
Can be personalized.
Can be washed and reused (up to 90ºC without the plastic latches; up to 40ºC with the plastic latches).
Warning: Neoprene emits strong fumes. Use laser cutting only in a well-ventilated area.
Notes:
seat_belt.stl is ZMorph remix of a file available on Thingiverse.
File clip_v1.stl should be 3D printed in 0.9 scale.
The fangs graphic was created by Alexander Wiefel and can be found on the Noun Project.
Depending on your machine, you may have to widen the holes in 4x_seat_belt_PET_OLP_Single_1_75_0_4.gcode using a knife or other tool if they're too small.
Glue (or sew) the folds for the nose and chin.
Laser parameters:
Set the Laser PRO Toolhead 3 mm above the material.
Laser cutting neoprene: set 2 paths with the speed 5 mm/s.
Laser engraving fangs: 1 path; 25 mm/s speed..
RD40 3M Mask Adapter
The 3D printed ZMorph adapters allow mounting any filters to the 3M half-mask.
Main features:
Universal mount for 3M mask with RD40 threads.
Notes:
Use PET-G filament as it can be sanitized after use.
Set 3 outlines in Voxelizer to achieve a durable effect.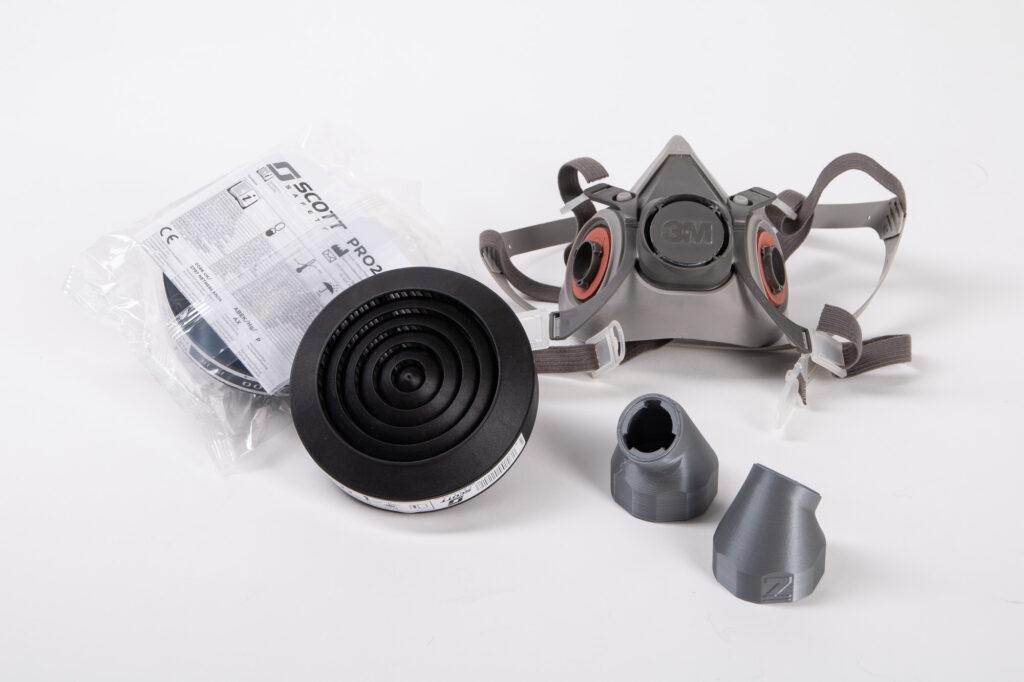 3M Filters to Any Mask Adapter
Single-thread RD40 adapter. This 3D printed model can be used to attach 3M filters to any other mask.
Main features:
Use PET-G so it can be thoroughly cleaned after use.
Use durable parameters in Voxelizer for reliable outcome.
3D Printed Ring for Touching and Pulling
This nifty gadget takes little space and by putting it on your finger you minimize the amount of direct contact with surfaces potentially contaminated with viruses. Anytime you need to press a button or pull a handle you can use the 3D printed ring and stay safe.
Main features:
Minimizes direct contact with potentially contaminated surfaces.
Fast & easy to make.
Small in size.
Mounted on finger.
Can be fine-tuned to your finger size.
Notes:
Needs to be very durable. Use at least 3 outlines and 50% infill.
Use strong filaments such as ABS or PET (the latter is recommended if you want to sanitize the gadget).
Handsfree Door Opener
This practical solution can be used not only to avoid touching the door handle, but also when your hands are occupied. The project consists of three separate elements - door mount, stabilizing block, and foot grip. Thanks to the stabilizing block the lowest part stays in the same position and is easier to operate. We recommend combining it with the 3D printed ring posted above.
Main features:
Thanks to the stabilizing element the lower part stays in the same place.
Simple design.
Easy to mount.
Contactless door opener.
You can mount the middle block using screws or a strong glue.
Notes:
The foot grip should be mounted 10-15 cm above the floor.
Use a durable string and mount it on the door handle.
Eye Protection Goggles
The goggles protect from physical damage as well as prevent viruses and micro-particles from entering your eyes. The model consists of three parts that can be made on ZMorph VX - two 3D printable parts, and DXF file for CNC cutting. The green part is 3D printed from PET-G, and yellow is made of TPU. The transparent plexiglass can be CNC cut to prepare the actual protection.
Main features:
Eye protection.
Can be adjusted to fit your head size.
Can be sanitized.
Click here to read how Zmorph is helping to fight the coronavirus pandemic.
Your email address will not be published.