How to Make a DIY Vacuum Forming Machine with ZMorph VX?
Vacuum forming machine is a practical device that can be used in a few ways and we're here today to discuss it, and learn how to prepare one using ZMorph VX Multitool 3D Printer (dxf files included).
A vacuum forming machine is a practical device that can be used in a few ways and we're here today to discuss it, and learn how to prepare one using ZMorph VX Multitool 3D Printer.
What Do I Need a Vacuum Forming Machine For?
The simple DIY vacuum forming machine you can make using ZMorph VX All-in-One 3D Printer is a nifty device that can be used for packing your prints. If you run a small business and sell your projects, the vacuum former will help you to prepare professional-looking plastic bundles ready for shipping. The best thing about that is that you can create it with minimum cost on the same machine you're already using, so no need for extra expenses.
You can also use the apparatus to form custom shapes and designs on plastic sheets. They don't necessarily have to be made for packaging purposes but rather for art and similar applications.
It's up to you how you will use your DIY vacuum former. This is just an example of how you can use one tool (namely, ZMorph VX) to make another tool.
Vacuum Forming Machine - DIY
A lot of you were asking for instructions on how to make the DIY vacuum former we shared on some photos before. We're happy to guide you through the process of making one. Below you can find all the necessary files. Download them and follow further instructions.
Step 1: Prepare the Files
Step one is to create G-codes for ZMorph VX. Upload them to Voxelizer and prepare files ready to be processed by the all-in-one 3D printer.
All files should be prepared as follows:
Open Voxelizer
Choose ZMorph VX -> CNC PRO -> 2D milling
Set your material dimensions (we used 200x220 mm plywood sheets).
Upload the file.
Center the file on the material.
Ungroup the paths and group the holes separately. This will come in handy later during milling, because you want the holes to be made before the machine cuts out the rectangle form. Check the Intermediate lectures in ZMorph Academy if you don't know how to do that or see the video below. This step applies only to files top.dxf, frame.dxf, side.dxf. It's important that some paths are milled before others, otherwise your project might fail.
Milling settings:

Material: Wood
Operation type: Contour
Operation tool: 2mm single flute (but you can experiment with other mills)
Change the cut speed to 5 mm/s.
The rest of the settings can stay default.

Remember to select the file using the "Apply to selected" button.
Save the generated G-code on an SD card or send the file directly to your ZMorph VX if the machine is connected to your computer.
Step 2: Prepare the Materials
Our vacuum forming machine is made of plywood and this tutorial is designed for this type of material. However, you can try using other materials for your project. ZMorph VX can successfully mill in popular engineering plastics, composites, and even soft metals. Remember that you should use other Voxelizer settings if you're not using plywood.
Now, if you choose plywood after all, here's what comes next. Use plywood sheets bigger than 150x200 mm (or scale your project to a smaller size) and secure them tightly on the CNC worktable. The final project is 150x200x95 mm in size, so the plywood sheets need to be bigger than that, because you need to cut out the form from something. Check the workpiece holding solutions for details how to mount the material. 
Step 3: Prepare Your ZMorph VX
Do you have files and materials ready for making the DIY vacuum forming machine? Let's proceed to CNC milling then. Switch the toolhead to CNC PRO (if you haven't done that before) and mount the CNC worktable with a plywood sheet on your ZMorph VX. Insert the SD card and select the file.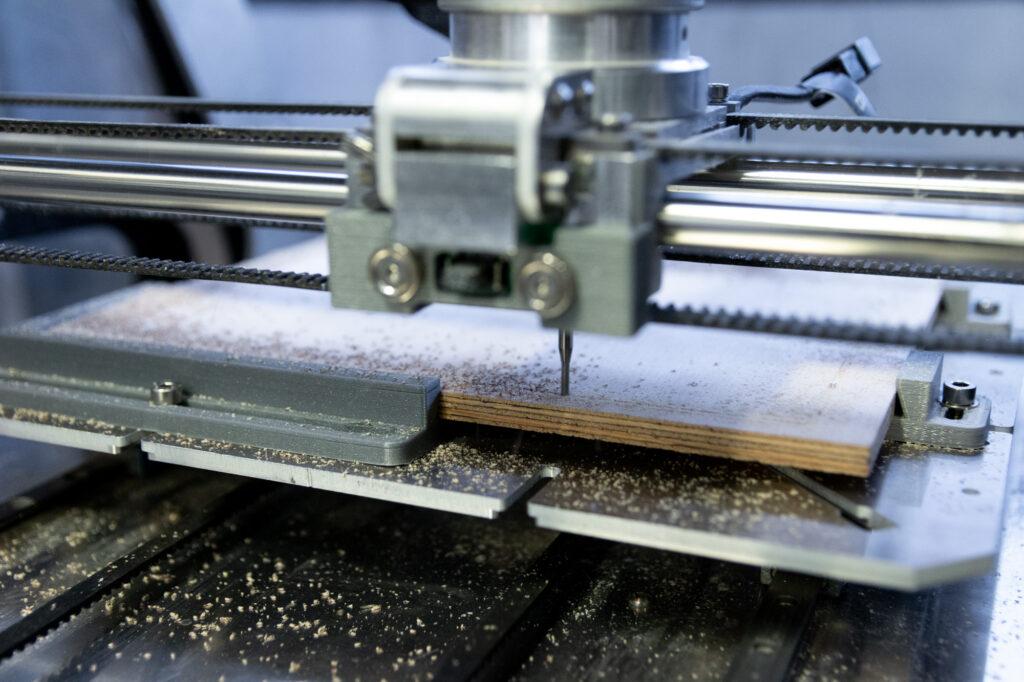 Step 4: Assembly
Use glue to connect parts. The top part is not glued, only the elements shown in the picture below.
To use the vacuum forming machine, pre-heat a plastic sheet in an oven, put it between the plywood and connect a vacuum cleaner to suck the air out. Of course you need to put something underneath the plastic sheet to create a form.
[Tweet "Make your own DIY vacuum forming machine using #CNC #woodworking (files included):"]
Your Own DIY Vacuum Forming Machine
Now you have your very own vacuum forming machine, that can be used to pack your 3D printed designs and send them to your customers. Not only will it look more professional but also you will be able to save on packaging. What's more - you can do it all on just one machine!
Feel free to experiment with sizes and materials, and don't forget to share the results with us. Contact us via the comment section below or social media. Alternatively, ping us at hello@zmorph3d.com. We're waiting for your projects.
Your email address will not be published.