Using 3D Printed Jigs and Fixtures in Manufacturing
3D printed jigs and fixtures are true silent heroes changing how modern manufacturing works.
Applications like 3D printed organs make headlines but 3D printed jigs and fixtures are true silent heroes changing how modern manufacturing works.
Tools are always needed in manufacturing while certain products and various jigs, fixtures, templates, and gauges can significantly improve the process while lowering the production time and labor costs. But many companies couldn't afford custom-making their own tooling until 3D printing became more widespread. What is the situation like now, when various affordable industrial and desktop 3D printers are easily available?
Various applications of jigs and fixtures
We call jigs and fixtures the silent heroes of manufacturing because they're usually being used deep on the production lines, outside of bright offices and exhibition displays. They're used to hold, position, protect, and organize at all stages of the manufacturing process. They're helping in machining and assembly as well as in performing quality assurance tests. Even R&D departments can use jigs and fixtures in their experiments to make better products.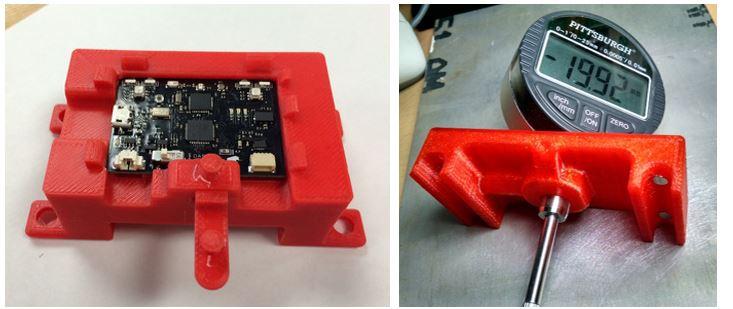 Nick Jones from SolidWorks described a simple example of how 3D printed jigs and fixtures could be used by a watchmaker after a few of them couldn't open his watch to replace a battery. Nick resolved the problem himself by designing and 3D printing a simple jig that enabled him to grab the lid tightly and open the watch.
This is the essence of 3D printed jigs and fixtures - they enable people to perform their jobs better. But what makes these printed items so unique that they're being implemented into processes and replacing traditional tooling? Money, of course.
[Tweet "Using #3Dprinted jigs and fixtures in #manufacturing #3Dprinting"]
Advantages of 3D printed jigs and fixtures
Jigs and fixtures don't replace people but instead, make their work easier and more efficient. These devices aid repeatability, quality, and time efficiency. Up until recently, many companies didn't use tooling or used on a small scale only. Mainly because the high costs of manufacturing and storing, which results in increasing the overall production expenses and lowering company's earnings. Traditional manufacturing methods also couldn't deliver shapes or level of precision they needed while 3D printing now can.
So, the biggest advantage of 3D printed jigs and fixtures is that they cost less. Like a lot less. One industrial manufacturing company designed a thread rolling machine die holder to optimize storing of pieces and speed up the future assembly process. Using traditional injection molding techniques, these could be ordered from a 3rd party company with 2-5 weeks lead time and for 300$ a piece. Using 3D printing this company was able to manufacture their own holders from PLA for about 100$ a piece within hours.
American household goods company Oreck implemented 3D printed jigs and fixtures at almost every stage of their manufacturing process. For example, some are being used to hold parts of the vacuum cleaners during the assembly, while others are placed on top of parts that require screwing in the exact places. This enabled the company to streamline their processes and gain significant savings in both time and money.
The automotive industry is currently seeing one of the highest levels of 3D printed jigs and fixtures adoptions. Companies like Audi, BMW, Porsche, and Volvo use them mostly to fit, connect, and hold components together on the production lines. But BMW Group went a step further and introduced customized 3D printed assembly support tools for their employees. Made for each individual, these flexible finger coats make certain actions easier to perform efficiently while keeping people's thumbs safe.
Saving money, time, and storage space
Research conducted by industrial 3D printing giant Stratasys shows that using 3D printed jigs and fixtures can save from 40% to 90% lead time from designing a tool to introducing it to the production floor. Many companies are able to improve their manufacturing process in just one day instead of weeks.
The same goes for manufacturing costs of 3D printed jigs and fixtures. They can save up to 95% of company's money as they're cheaper in production and don't require costly storage. 3D printed toolings can be simply thrown away (or recycled for material) once they're not needed and printed again after some time. Digital libraries are being used to store the source files of jigs and fixtures instead of renting storage spaces for tons of equipment.
Other research shows that over 60% of industrial applications of 3D printing involve 3D printed jigs and fixtures, which makes it even more popular use than for rapid prototyping in product development.
With the advances of affordable desktop 3D printing and multitool machines, like ZMorph VX, the technology is now available to all sorts of businesses, big and small, that up until now wasn't able or couldn't afford to boost their processes with tooling. Adoption of the technology can give a competitive advantage and lead to significant increase in company's income. All because the future of manufacturing is now.
Your email address will not be published.